1. YKK Brand
YKK philosophy: Cycle of Goodness."No one prospers without rendering benefit to others."
The YKK Group was founded on January 1, 1934 and currently engaged in business in 117 companies, 88 factories (includes 8 factories in Japan) in 70 countries/regions around the world. The management system divides the world into six regional bases: North and Central America; South America; Europe, the Middle East & Africa (EMEA); China, Korea & Taiwan district (East Asia); ASEAN, South Asia & Oceania(ASAO) and Japan. YKK philosophy spread to every corner.

As the management principle, "seeking corporate value of higher significances", YKK will pursue innovative quality in the seven key areas.


2.YKK Quality and Certification Management
YKK continuously works to develop and improve in many areas, including quality management, occupational safety and health management, and environmental management systems. YKK's conformity to international and national standards is confirmed through our many certifications. Currently, many of YKK's production locations have been certified as meeting ISO 9001, ISO 14001, ISO/TS 16949, OEKO-TEX® STANDARD 100 , bluesign® system , and OSHMS/ JISHA OHSAS. Below is a more detailed description of each certification.

ISO 9001
ISO 9001 provides standardized requirements for a best-in-class quality management system, regardless of what the organization does or its size.
The ISO 9001 standard provides a proven framework for managing quality that will lead to producing consistently higher-quality products. ISO 9001, as well as other ISO standards, have been developed by the International Organization for Standardization (ISO), the world's largest developer and publisher of international standards.
ISO 14001
ISO 14001 provides the requirements for environmental management systems (EMS).
An EMS that meets the ISO 14001 requirements provides management tools necessary to:
- identify and control the environmental impact of a company's activities, products or services;
- continually improve environmental performance; and
- implement a systematic approach to setting environmental objectives and targets, achieve those targets, and demonstrate that those targets have been achieved.
ISO/TS 16949
ISO/TS 16949, in conjunction with ISO 9001, defines the quality management system requirements for the design, development, production and, when relevant, installation and service of automotive-related products.
OEKO-TEX® STANDARD 100
The OEKO-TEX® STANDARD 100 is a globally uniform testing and certification system for textile raw materials, intermediate products and final products at all stages of production.
The certification confirms compliance with laws that control or prohibit certain substances and chemicals.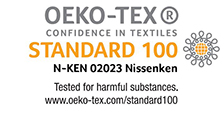 bluesign® system
The bluesign® system is a solution for the sustainable production of textiles, accessories and trims. It eliminates harmful substances right from the beginning of the manufacturing process and sets and controls standards for environmentally-friendly and safe production. This not only ensures that the final product meets very stringent consumer safety requirements worldwide, but also reassures the consumer that they are acquiring a sustainable product.
YKK is a bluesign® system partner and has bluesign® approved products requiring the most stringent standards in the world. Below are bluesign® approved products.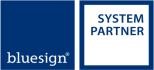 OSHMS / JISHA OHSAS
An Occupational Safety and Health Management System (OSHMS) promotes a safe and healthy working environment by providing a framework for managers to consistently identify and control health and safety risks, reduce the potential for accidents, aid legal compliance and improve overall performance.
There are several standards for OSHMS. In many of its locations YKK has obtained certificates of compliance under the following major OSHMS standards:
1. OHSAS (Occupational Health and Safety Assessment Series) 18001
OHSAS 18001 is the internationally recognized assessment specification for OSHMS's. It was developed by leading trade, international standards and certification groups. Main issues addressed by OHSAS 18001 are (a) hazard identification, (b) risk assessment, (c) risk control, (d) OHSAS management programs, (e) training awareness and competence and (f) performance measuring, monitoring and improvement.
2. JISHA OSHMS (Occupational Safety and Health Management Systems)
JISHA OSHMS standards were established by the Japan Industrial Safety and Health Association (JISHA) and they conform to the Guidelines for OSHMS's from the Ministry of Health, Labor and Welfare of Japan. These standards are adapted for actual safety and health management situations as well as specific safety and health activities at Japanese companies.
3. YKK Laws and Regulations
YKK has always made safety and quality top priorities and has been investing its resources to ensure that products manufactured by YKK meet all applicable standards. Below are descriptions of some of those key laws.
United States
Consumer Products Safety Improvement Act of 2008 (CPSIA)
The CPSIA was signed into law in August 2008, amending the provisions of the Consumer Product Safety Act. The main objectives of the CPSIA are to (a) strengthen consumer product safety standards, (b) increase safety requirements for children's products and (c) revitalize the Consumer Product Safety Commission. YKK does not make consumer products; however, its components are used in consumer products. Major requirements of the CPSIA impacting our customers' products and YKK's commitments are described below:
1. Lead content in surface coating and substrates
Lead content in products manufactured by YKK, except PROSEAL® airtight / watertight zippers and zippers with lead crystals/ rhinestones, does not exceed the lead content requirements of the CPSIA, as confirmed through internal testing.
2. Phthalates
Products manufactured by YKK, except PROSEAL® airtight / watertight fasteners and Rail Seal Fasteners with PVC materials, do not exceed CPSIA phthalate limitations, as confirmed through internal testing.
EU
REACH ( Regulation (EC) No 1907/2006 of the European Parliament and of the Council on the Registration, Evaluation, Authorization and Restriction of Chemicals )
REACH is the European Community Regulation on Chemicals and their safe use, which deals with registration, evaluation, authorization and restriction of chemical substances. Major requirements of the law that could be related to fastening products are listed below:
1. SVHC (Substances of Very High Concern)
None of the 174 substances listed in the candidate list of SVHC (as of July 2017) are found in YKK's major products in a concentration more than 0.1% (w/w), except Rail Seal Fasteners with PVC materials, PROSEAL® airtight / watertight zippers, and flame retardant zippers with Conex® and Nomex® tape.
2. European Nickel Restriction (part of Annex XVII)
All YKK products indicated as "N-ANTI" meet the above mentioned nickel restriction. Metal zippers using nickel material, such as 3YN, 3MN, 4MN, 5RN, 5RNM etc., metal finishes using nickel material, such as NP, NS, HP etc.
3. European Azo colorants and Azo dyes Restriction (part of Annex XVII)
YKK products meet the above mentioned Azo colorants and Azo dyes restrictions.